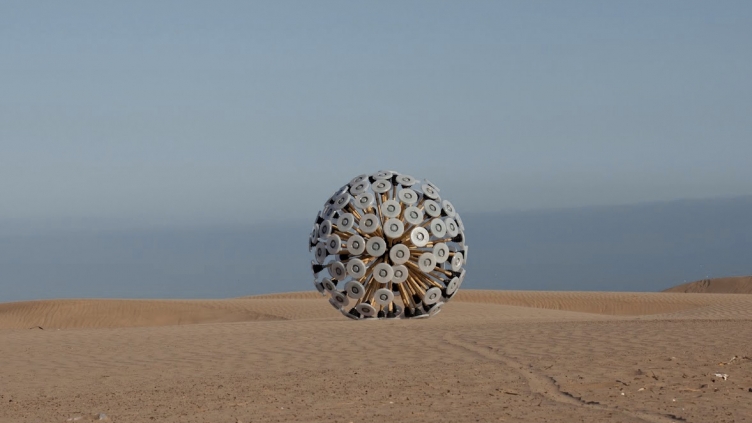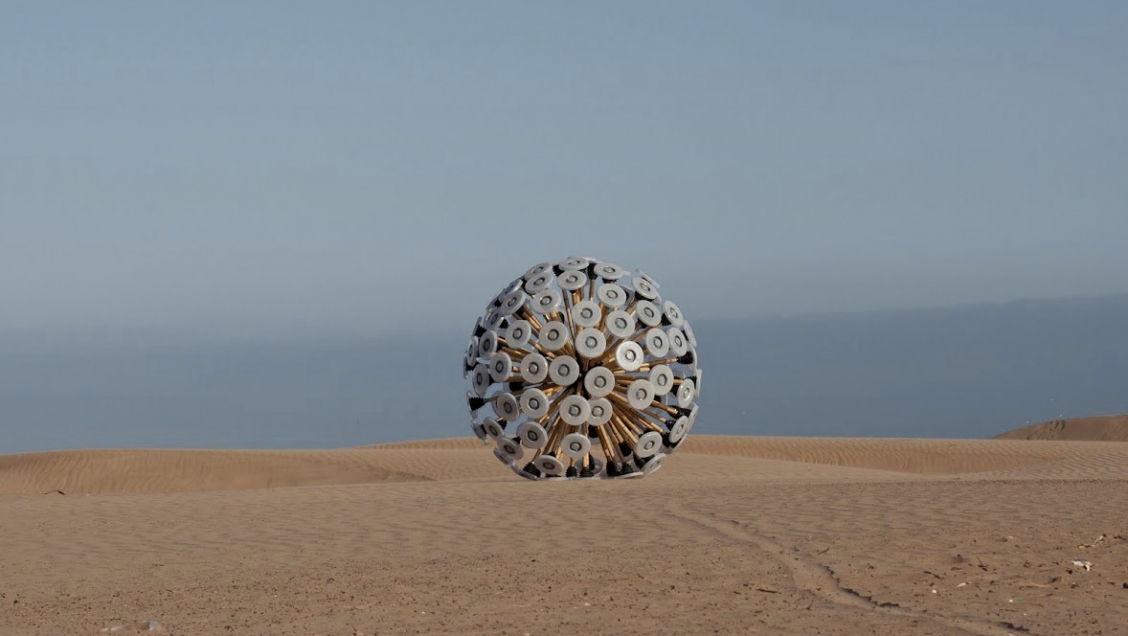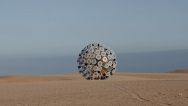 Hypervital
Exhibition-IN
Curator
Benjamin Loyauté
Scenography
Noémie Bonnet-Saint-Georges et Éric Bourbon
Julie Lafortune
Site
La Platine, agora
3 rue Javelin Pagnon
Date
From 12/03/2015
To 12/04/2015
Hours
every day
10am to 7pm
late opening every
friday until 9pm
Share
Hypervital
Saying and doing... finding the perfect harmony, the right balance and measure. We are in a period of great creativity, of inventions and intense production, but also of conflicts and shortages that are reorganising the world. We need to build a pragmatic future just as we need to dream the possible based on stark realities and naked truths. The edification of beauty in a world is as much about the truth of beauty as it is about the beauty of truth. The Hypervital exhibition thus develops an aesthetics of unveiling through the experiencing of truth as the vital bedrock of our imagination. We must deconstruct the models of acceptance and opposition and bring together as many minds as possible ready to shape an architecture of new thought to design tomorrow's world. This exhibition has grown out of a reflection linked to the publication of an article in the Guardian reporting on a NASA-funded study carried out by mathematician Safa Motesharrei and a team of social scientists. The media shockwave it generated referred to the series of factors that will inevitably lead to a change of civilisation if we do not change any of our behaviours. The report entitled Human and Nature Dynamics (HANDY): Modeling Inequality and Use of Resources in the Collapse or Sustainability of Societies insists on a multitude of criteria to which we now more than ever need to find a response. It is up to us as designers to contribute to the development of scenarios that can build a revival and be vectors of a Happy End. To avoid fatalism of all kinds and unrestrained gloom-mongering, it is time to let go of the certainties and models in which our world is steeped and reconnect with humanity and nature. «Everyone thinks of changing the world, but no-one thinks of changing himself» (Leon Tolstoy). Considering design as a language with an aesthetics endowed with meaning, a depository of a system that is at once mathematical and poetic, we have a duty to reconcile our gestures and our practices with our existence. We must improve the real world and evoke fictions of a renaissance. Hypervital is thus built on the analysis of a world in crisis, being shaken up by its own practices, its discoveries, its ideals and its failings.



THE CURATOR

Benjamin Loyauté is involved in Design researching, curating and speculating the contemporary ecosystem of design landscape. He thrives at the intersection of opposite or collaborative systems: Futur & Patrimony, craft & technology, Design & Art... Experimental director and Design Scenarist, he is currently working on creative scenarios in Design. As Guest Professor, he regulary teaches courses at Geneva University of Art & Design and Workshops. He has written and lectured on 20th century Design at the Sorbonne and abroad as Tsinghua University, Beijing Institute of Technology, Grand Palais, Mudam with University of Luxembourg.
In 2007, he collaborated at the exhibition Design contre Design held at the Grand Palais in Paris, in charge of the contemporary section and research. He published the essay Entre la mode et le Design, le corps.
In 2010, he was chosen to curate the Biennale Internationale Design Saint-Etienne in France and achieved the exhibition Prediction in a space of over 2,500 square meters. The same year, Loyauté worked on the "Confort" with US prisoner Herman Wallace.
The early 2011, he was chosen to be Curator at the Inaugural Beijing International Design Triennial, for the exhibition Reason design Emotion held at the National Museum of China. He is the creator of the Reasemotion Theory. Loyauté has also held curatorial position for the Design Shanghaï 2013 comittee at the Power Station of Art and imagine the Nighttime Dreamreal Exhibition. As an author, he published Pierre Cardin Evolution, After Design, Old is back and Reasemotion.
Taking an experimental and historical approach to his work, Loyauté's studio initiates design projects and lectures as - The astounding Eyes of Syria 2014 (upcoming), Les Fantômes du Design 2014 (upcoming) , Glocalisation 2013, Ethic & Esthetic 2013, Designocraty 2012, Reasemotion 2011, The Future of Uchronia 2010, Mythes & Memory 2010. that undertakes design research in interdisciplinary fields. Since few years Loyauté is often called upon as a critic and a juror and he is part of the advisory committee for internationals firms and Events as the Prize of the Designer of the Future at Miami Basel Design.



WITH

Alexandre Echasseriau
ÖSSUR
Tobias Revell
SUPERFLUX
Carmat
Nicolas Huchet & My Human Kit
Exhauss
FANUC
The Polyfloss Factory LTD
Luc Fusaro
Cesar Harada
Florie Salnot
Hal Watts
ALGOPACK
Peter Cusak
VESTERGAARD
EMOTIV
INDEX: Design to Improve Life and David Swan
MHOXDESIGN & CRP group
Susana Soares
Dupont Team
Massoud Hassani
Hwang Kim
SKATEISTAN
Better Shelter + UNHCR + IKEA Foundation
MORGAN Advanced materials
Artur van Balen
Maya Kaadan
POSTLER FERGUSON
NASA
Oscar Lhermitte
SWISS SPACE CENTER - EPFL
Studio Joris Laarman
European Space Agency (ESA) & Foster + Partners
Dan Watson
Renee Verhoeven and David Carr
Shlomi Mir
Soomi Park
Elham Seyed Javad
Dominic Schlögel
PEUGEOT DESIGN LAB
Hans Silvester
Lukas Franciszkiewicz et Daniel Tauber
Maryland Robotics Center
Eric Sterman.
Show complete map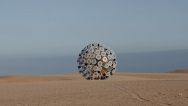 Mine Kafon
Silent picture in desert.
Massoud Hassani. 2011
Photo : Hassani Design BV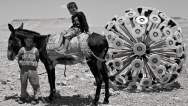 Mine Kafon
In this picture is a very strong story telling, the two brothers that later would work together on the Mine Kafon project started as every regular kid in Afghanistan.
Massoud Hassani. 2011
Photo : Hassani Design BV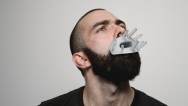 Taste of Light
Aesthetic exploration of tasting light
Lukas Franciszkiewicz. 2013
© Lukas Franciszkiewicz & Daniel Tauber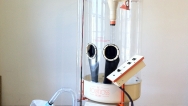 Machine Polyfloss
Machine permettant de transformer des déchets plastique en laine, inspirée de la machine à Barbapapa.
Emile De Visscher, Christophe Machet, Audrey Gaulard et Nick Paget. 2013
Photo : Christophe Machet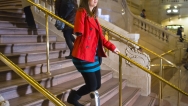 Genou Bionique Power Knee
Femme descendant les escaliers
Össur
Photo : Grimur Bjarnason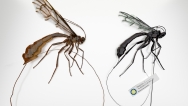 Into Your Hands Are They Delivered
Tobias Revell. 2012
© Tobias Revell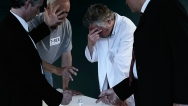 Into Your Hands Are They Delivered
Tobias Revell. 2012
© Tobias Revell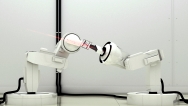 Into Your Hands Are They Delivered
Tobias Revell. 2012
© Tobias Revell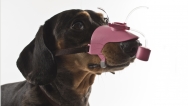 Sniffer Dog Authentication
Soomi Park. 2013
© Soomi Park
Photo : Marcel Helmer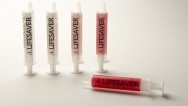 A Behaviour Changing Syringe
ABC syringe
Dr David Swann. 2014
© Dr David Swann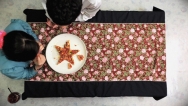 Pizzas for the People
Star Pizza Dining Table
The leftover pizza and the dinning table are arranged in the North Korean flag configuration, contrasting the communist symbol with this exclusive meal, and representing the current cultural gap between the people and the political elite.
Hwang Kim. 2010
© Hwang Kim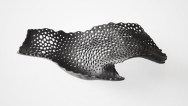 Generative Orthoses: Hand Model's Phenotype One
MHOX and CRP Technology developed a system of mass customization for generative orthoses based on three phases: bodyscan of the patient; generation of a 3d model of orthosis; 3d printing of the orthosis.
MHOX - Filippo Nassetti & Alessandro Zomparelli. 2014
Photo : MHOX
© 3d printing and laser sintering materials : CRPTechnology / WINDFORM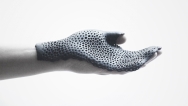 Generative Orthoses: Hand Model's Phenotype One
MHOX and CRP Technology developed a system of mass customization for generative orthoses based on three phases: bodyscan of the patient; generation of a 3d model of orthosis; 3d printing of the orthosis.
MHOX - Filippo Nassetti & Alessandro Zomparelli. 2014
Photo : MHOX
© 3d printing and laser sintering materials : CRPTechnology / WINDFORM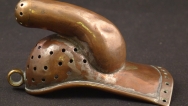 Onania pour garçon
Début du XIXe
© Librairie Alain Brieux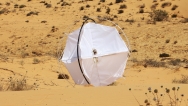 Tumbleweed
Working Prototype in desert experiment, Egyptian Border.
Shlomi Mir. 2014
© Shlomi Mir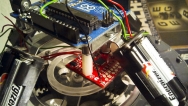 Tumbleweed
Working Prototype in desert experiment, Egyptian Border.
Shlomi Mir. 2014
© Shlomi Mir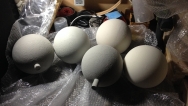 Globe Lunaire
Prototypes
Oscar Lhermitte. 2014
© Oscar Lhermitte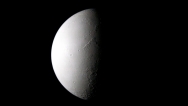 Globe Lunaire
Face visible de la Lune
Oscar Lhermitte. 2014
© Oscar Lhermitte