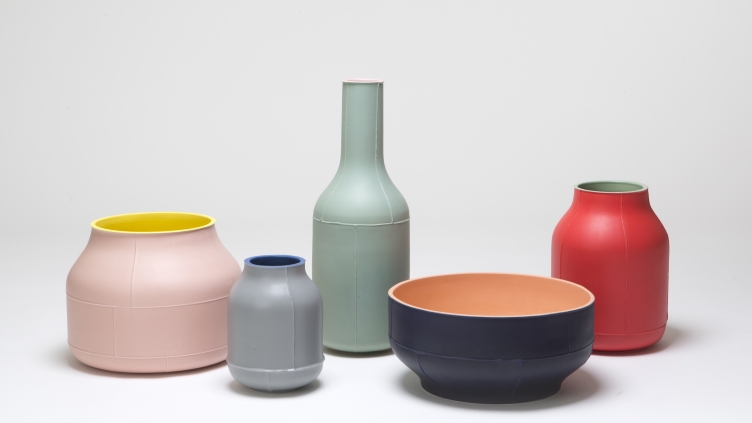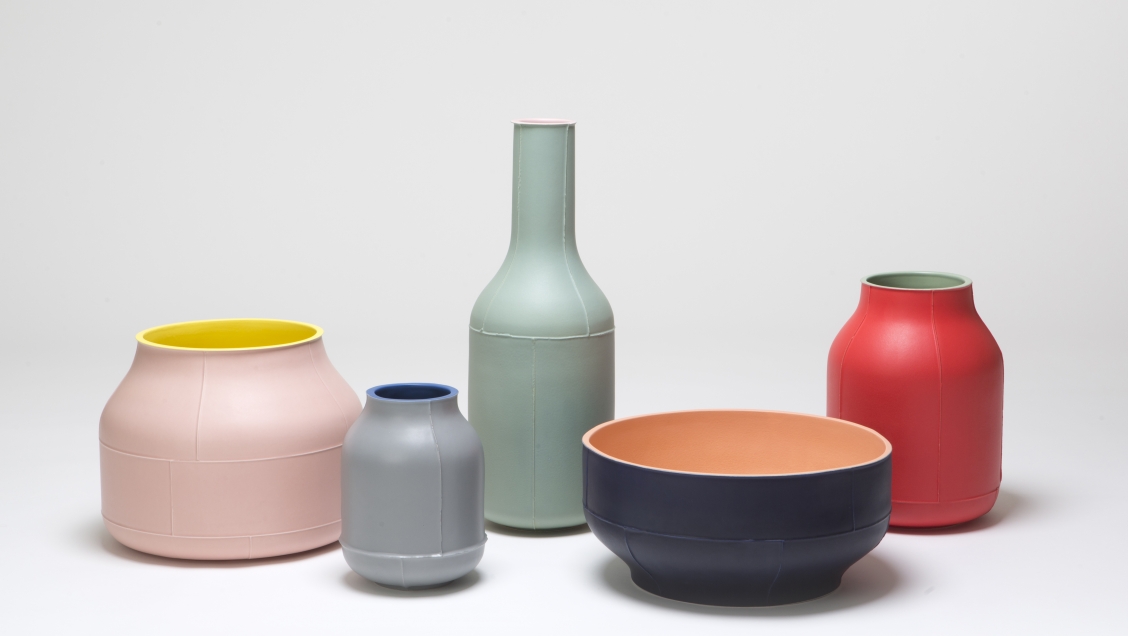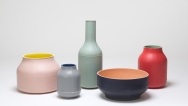 Serial Beauty
Exhibition-IN
Curator
Giovanna Massoni
Dieter Van Den Storm
Scenography
Noémie Bonnet-Saint-Georges et Éric Bourbon
Site
Cité du design
3 rue Javelin Pagnon
Date
From 12/03/2015
To 12/04/2015
Hours
every day
10am to 7pm
late opening every
friday until 9pm
Share
Serial Beauty
The design industry can no longer be considered merely as the place where objects are produced that are attractive and functional in an absolute sense, but rather as a space generating a multitude of different signs, vectors of fluid, shareable aesthetic experiences, but experiences that are also personal and personalisable. If traditional ideas of beauty have been closely linked to the unity of a thing or event, they are being replaced by a new notion, that of «serial beauty». The identity of the object has become an open, hybrid space. In place of a great sprawling mechanism of universal norms, the cogs set in motion by design generate something more in the nature of a modular system able to respond to societal, cultural and ethnic shifts. The Serial Beauty exhibition is a collection of industrial design products which bear witness to the necessary link between diversity and seriality, regionalism and globalism, creativity and industry. The sense of what is beautiful thus becomes the locus of experience, the space - public and private - where individuals and communities can understand and interact with each other. This new, interconnected Tower of Babel, which passes at high speed between the local and the global and which draws its creative energy and ingenuity from the conflicts and constraints inherent in this complexity, has become the new space for design. Through a selection of recent products by twenty international designers working for sixty companies in different countries with different types of production systems, the objects in the exhibition tell stories of convergence and conflict: they testify to the skill with which designers and industrialists are escaping from anonymous consumerism to construct a new ethics of the product and a new industrial culture.



THE CURATORS

Born in Milan, living and working in Brussels since 20 years, Giovanna Massoni is an Italian freelance art and design journalist and independent design consultant. She regularly collaborates with Belgian and international organisations, aiming at promoting and communicating emerging design scenarios with a social and ethical content. Amongst her most significant assignments to date have been: Addict Creative Lab (an international multidisciplinary and multicultural creative network researcher and editor; EOS, environmental integrated communication agency's associate; Wallonie-Bruxelles Design/Mode promotional concepts and communication (e.g. the creation of a 'federal' label - [les belges] for the promotion of Belgian design in the frame of international events, together with Naos design); Saint-Etienne International Design Biennial's Belgium curatorship, 2006-2008 (France); Wallonie-Bruxelles Design/Mode promotional concepts and communication; DesignSingapore Council exhibition project manager for Italy in the frame of the Milan Design Week 2008. In 2009, she has been consultant for the EESC (European Economic and Social Committee) for the first edition of the sustainable design award "EESC Design ZeroNine", and preparing the second edition to be launched next November 2010. Amongst her 2010 curatorship major projects: "Fighting the Box - 20 Belgian designers/20 stories behind the products", co-curated with Dieter Van Den Storm, Centrale électrique, Brussels (BE); "Multiple Plan - Design Crossroads in Belgium", co-curated With Alok Nandi/Architempo, red dot design museum, Essen (DE); the Belgian stand at the International Design Biennial 2010, Saint-Etienne (FR); "La Belgique des autres", 13 Belgian designers of foreign origins, CIVA-Espace Architecture La Cambre Horta, Brussels (BE).

Brussels based freelance design journalist, critic and curator Dieter Van Den Storm (1977) gained his place in Belgium's media landscape rather promptly. He graduated in communication and specialised in journalism. After a first life in public television, at which time he worked as a researcher for cultural programs, he specialised in design, architecture and life style trends. Beside his journalistic work for a.o. De Standaard Magazine and Frame, he was active as artistic director for the Belgian Design Biennale Interieur in 2006 and 2008. Last year he started working at Bozar, the Centre for Fine Arts in Brussels, where he is responsible for activities in the field of creative industry. He has published several books on contemporary design and is a wanted lecturer and juror. After a first exhibition during the 2010 Biennale of Saint-Etienne, he is back again, once more in corporation with Giovanna Massoni.



DESIGNERS

Big-Game - Augustin Scott de Martinville , Elric Petit & Grégoire Jeanmonod
Ronan & Erwan Bouroullec
Matali Crasset
Doshi Levien - Nipa Doshi & Jonathan Levien
Front Design - Sofia Lagerkvist, Charlotte von der Lancken & Anna Lindgren
Francisco Gomez Paz with the participation of Alberto Meda
Konstantin Grcic
Sebastian Herkner
Benjamin Hubert
KiBiSi - Lars Larsen, Bjarke Ingels, Jens Martin Skibsted
Giulio Iacchetti with the participation of Matteo Ragni
Industrial Facility - Kim Colin & Sam Hecht
Mathieu Lehanneur
Jasper Morrison
Nendo - Oki Sato
Karim Rashid
Scholten & Baijings - Stefan Scholten & Carole Baijings
Studio Job - Job Smeets & Nynke Tynagel
Ionna Vautrin
Sylvain Willenz


EDITORS

Alessi, Andrée Jardin, Artek, Axor-Hansgrohe Group, BD Barcelona, Binauric, Biomega, Bitossi, Bulbul Watches, Bullerjan, Concrete by LCDA, Deknudt Mirrors, Emeco, Febrik, Fabbian, Flos, Fun Factory Gaia & Gino, Gebrueder Thonet Vienna, Glas Italia, Hay, Hashikura Matsukan, Hermann Miller, Karimoku, Kartell, Kvadrat, IKEA, Internoitaliano, Lensvelt, Lexon, Ligne Roset, Luceplan, Madina, Magis, Maharam, Mattiazzi, Menu, Moleskine, Moooi, Montini, Moroso, Moustache, Muji, NAVA, Nespresso, NLXL, Objekten, Praxis, Pulpo, Punkt, Reelight, Rosenthal, Schneider Electric, Solar Bottle, Tefal / Goupe SEB, Toshiba, TVS, Vitra, Vlisco
Show complete map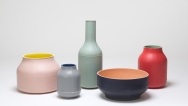 Seams collection, 2014
Benjamin Hubert pour Bitossi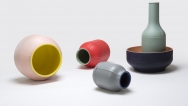 Seams collection, 2014
Benjamin Hubert pour Bitossi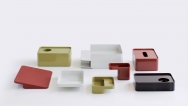 Industrial Facility (Sam Hecht, Kim Collin)
Formwork
Desk accessories
Industrial Facility pour Herman Miller
2013
Crédit : Herman Miller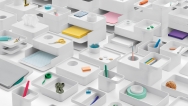 Industrial Facility (Sam Hecht, Kim Collin)
Formwork
Desk accessories
Industrial Facility pour Herman Miller
2013
Crédit : Herman Miller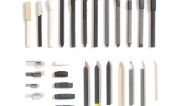 Moleskine Writing Collection
Pen with cap and clip, designed specifically for clinging to Moleskine hard cover notebooks.
Giulio Iacchetti pour Moleskine.
2011
Crédit : Giulio Iacchetti / Photo : Moleskine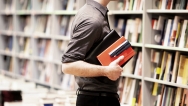 Moleskine Writing Collection
Pen with cap and clip, designed specifically for clinging to Moleskine hard cover notebooks.
Giulio Iacchetti pour Moleskine.
2011
Crédit : Giulio Iacchetti / Photo : Moleskine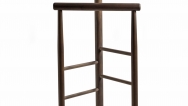 Mori
A useful accessory for neatly hanging up clothes while undressing, once used exclusively by men, it has been revived and adapted for our everyday lives. A hanger along with other horizontal elements, beyond simply reconstructing the iconic object, act as multiple supports for differentiating between the types of garments hung up.
Structure in walnut
Giulio Iacchetti pour Internoitaliano. 2014
Photo : Fabrizia Parisi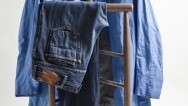 Mori
A useful accessory for neatly hanging up clothes while undressing, once used exclusively by men, it has been revived and adapted for our everyday lives. A hanger along with other horizontal elements, beyond simply reconstructing the iconic object, act as multiple supports for differentiating between the types of garments hung up.
Structure in walnut
Giulio Iacchetti pour Internoitaliano. 2014
Photo : Fabrizia Parisi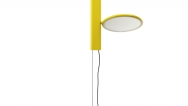 OK Lamp
Konstantin Grcic pour Flos.
2014
Photo : Michele Branca
Piero Fasanotto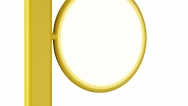 OK Lamp
Konstantin Grcic pour Flos.
2014
Photo : Michele Branca
Piero Fasanotto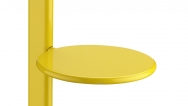 OK Lamp
Konstantin Grcic pour Flos.
2014
Photo : Michele Branca
Piero Fasanotto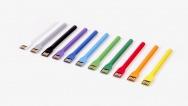 PEN memorystick
Praxis Pen USB
BIG-GAME for Praxis
2013
Crédit : Praxis Design Limited
Photo : ONNO design Ltd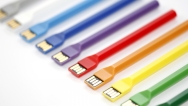 PEN memorystick
Praxis Pen USB
BIG-GAME for Praxis
2013
Crédit : Praxis Design Limited
Photo : ONNO design Ltd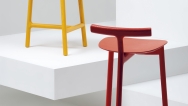 Radice Chair and Stool
Industrial Facility (Sam Hecht, Kim Collin) pour Mattiazzi
2013
Photo : Gerhardt Kellermann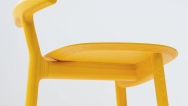 Radice Chair
Industrial Facility (Sam Hecht, Kim Collin) pour Mattiazzi
2013
Photo : Gerhardt Kellermann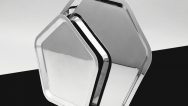 Plateaux Territoire & Territoire Intime
Plateau hexagonal en acier inoxydable 18/10.
Matali Crasset pour Alessi
2014
Photo : Adrien Toubiana & Matali Crasset
Courtesy : Alessi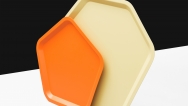 Plateaux Territoire & Territoire Intime
Plateau pentagonal en acier coloré à la résine au époxyde, Orange Terracotta.
Matali Crasset pour Alessi
2014
Photo : Adrien Toubiana & Matali Crasset
Courtesy : Alessi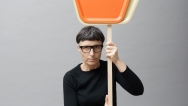 Plateaux Territoire & Territoire Intime
Matali Crasset pour Alessi
2014
Photo : Adrien Toubiana & Matali Crasset
Courtesy : Alessi