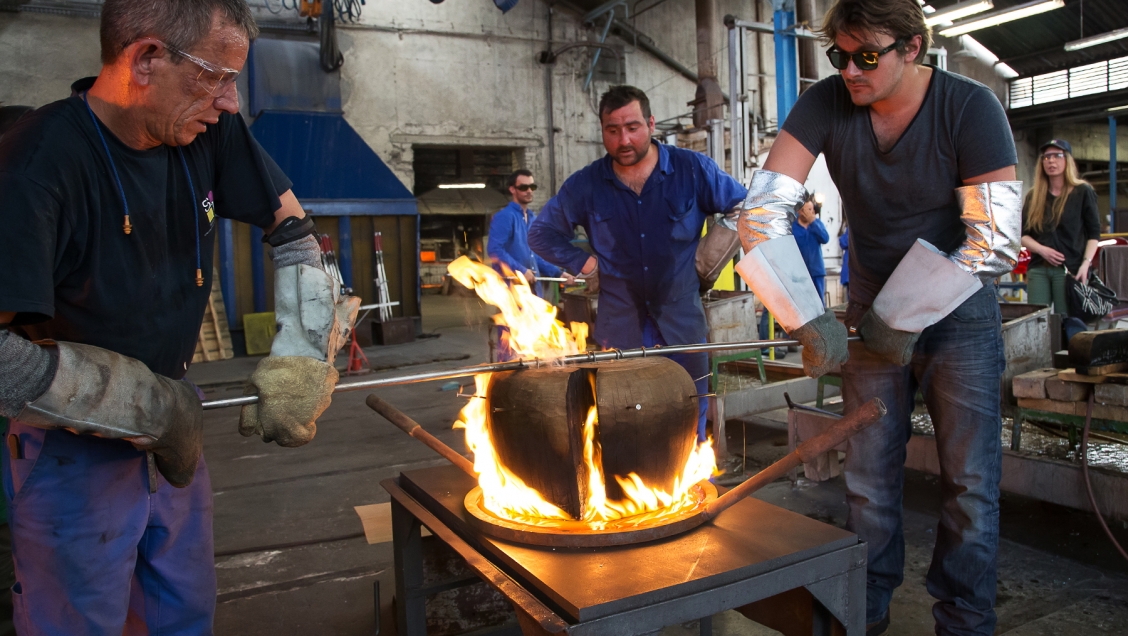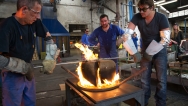 Glass is Tomorrow
Exhibition-IN
Curator
Lise Coirier
Scenography
Pro Materia
Site
Musée de la Mine, salle de l'énergie
3 boulevard Franchet d'Espèrey
Date
From 12/03/2015
To 08/04/2015
Hours
From Tuesday to Sunday
from 9am to 6pm,
Mondays from
2pm to 6pm
Share
Glass is Tomorrow
Glass is Tomorrow
transposes the knowhow of the glassmaker into the heart of the design of future possibilities in the four corners of Europe and exhibits a hundred or so prototypes produced at six co-creative workshops at the Musée de la Mine. These workshops gave rise to about a hundred objects that have something to contribute to the experiences of beauty, challenging the assumed fragility of the secular ceramic and glass-making crafts and industries or the great glass manufacturers, which, in many cases, have collapsed. The themes of the six workshops that took place ahead of this exhibition: mixed media (The Glass Factory Boda), liquid fusion (Corning Museum of Glass - The Glass Lab™ Boisbuchet), inside-outside (Verrerie de Saint-Just - ESADSE), le luxe silencieux (CIAV Meisenthal), Light/House (Pasabahce Denizli), making-makers (RCA London).
Reinventing the glass-making arts through design: it is no longer industry that drives innovation, but people who find the inner strength to create, to immerse themselves in the culture of each place in the regions anchored in a tradition of glass-making. Seeking a revival and a future. The meaning of beauty: an exploration of the creative processes. Moulding or glass-blowing, hot or cold work; the glass-maker's steps around the workshop follow a pattern like a dance by Matisse. Each gesture can be providential, or fatal to the project sketched out on paper. If the beauty of the glass-maker's gestures never ceases to fascinate, that of the designer resides in the transformation of this material yet to take shape.
The designers who will be showing their glass pieces at the Biennial are
Gwladys Alonzo, Flavie Audi, Autoban, Dina Baïtassova, Claire Baldeck, Mark Braun, Vincent Breed, Aude Briet, l'équipe du CIAV, Nigel Coates, Nathalie Dewez, Christian Ghion, l'équipe de Glass Lab™ du Corning Museum of Glass, Jeanne Gautier, Christophe Genard, GGSV, Pawel Grobelny, Stéphane Halmaï-Voisard, Kaspar Hamacher, David Hanauer, Iveta Heinacka, Simon Kashmir Holm, Benjamin Hubert studio - Luca Corvatta, Matilda Kastel, Norayr Khachatryan, Marika Kinnunen, Matti Klenell, Tomas Kral, Clément Le Mener, Pierre Lhoas, Eino Mäkelä, Studio Monsieur, Tamer Nakisci, Fredrik Nielsen, l'équipe NUDE - Sinem Hallı et Sevgi Kes, Michel Philippon, Amaury Poudray, Camille Roger, Adrien Rovero, Vanessa Royant, Studio Rygalik, Lucile Soufflet, Louis Thompson, Sema Topaloglu, l'équipe de la Verrerie de Saint-Just, l'équipe Ramazan et l'équipe Ali du groupe Şişecam, Terese William Waenerlund, Jeremy Wintrebert, Pia Wüstenberg.
THE CURATOR
Graduated in Management and in History of Art,
Lise Coirier
(France, 1971) has set up
Pro Materia
as a Creative Design Consultancy Agency in 1999. With twenty years of experience in the field of design and the creative industries, she is author of several books and has acted as an international curator. Among others,
Authentic Belgium Creativity
in Milan,
thewhitehotel
customized hotel rooms,
Label-design.be
and
Belgium is Design/ Design for Mankind
at Grand-Hornu Images in 2005 and 2010. She has created the human centered urban design platform
Human Cities
and curated three festivals in Brussels and Istanbul- European Capital of Culture between 2010 and 2012. Since 2011, she has also launched the European network
Glass is Tomorrow
supported by the European Union Culture programme (2007-2013). This project having received a label of excellence from the EU aims at experimenting new glass typologies by bridging the talent of glassblowers and designers. In parallel to her research on design, contemporary crafts and social innovation, she has founded in 2008 the quarterly and now, since Spring 2014, biannual design magazine
TLmag, True Living of Art & Design
. Teaming up with
Bookstorming
since 2012, she is today associate publisher and editor-in-chief of
TLmag
.
AVEC
Gwladys Alonzo
Flavie Audi
Autoban
Dina Baïtassova
Claire Baldeck
Mark Braun
Vincent Breed
Aude Briet
l'équipe du CIAV
Nigel Coates
Nathalie Dewez
Christian Ghion
L'équipe de Glass Lab™ du Corning Museum of Glass
Jeanne Gautier
Christophe Genard
GGSV
Pawel Grobelny
Stéphane Halmaï-Voisard
Kaspar Hamacher
David Hanauer
Iveta Heinacka
Simon Kashmir Holm
Benjamin Hubert studio - Luca Corvatta
Matilda Kastel
Norayr Khachatryan
Marika Kinnunen
Matti Klenell
Tomas Kral
Clement Le Mener
Pierre Lhoas
Eino Mäkelä
Studio Monsieur
Tamer Nakisci
Fredrik Nielsen
l'équipe NUDE - Sinem Hallı et Sevgi Kes
Michel Philippon
Amaury Poudray
Camille Roger
Adrien Rovero
Vanessa Royant
Studio Rygalik
Lucile Soufflet
Louis Thompson
Sema Topaloglu
l'équipe de la Verrerie de Saint-Just
l'équipe Ramazan et l'équipe Ali du groupe Şişecam
Terese William Waenerlund
Jeremy Wintrebert
Pia Wüstenberg
Opening
Glass is Tomorrow
Saturday 14 March 2015 / 18:00
Musée de la Mine, salle de l'énergie
Show complete map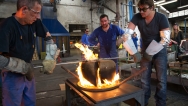 Glass is tomorrow
Participants
St-Just-St-Rambert (France) 2014
Photo : Anne Croquet for GITII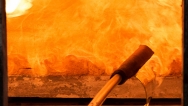 Glass is tomorrow
Saint-Just-St-Rambert (France) 2014
Photo : Anne Croquet for GITII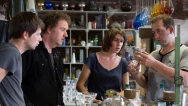 Glass is tomorrow
Studio Monsieur: Manon Leblanc & Romain Diroux, Meisenthal (France) 2014
Photo : Anne Croquet for GITII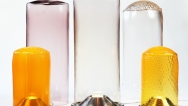 Glass is Tomorrow
Nathalie Dewez, Boda (Suède) 2013
Photo : Anne Croquet for GITII
© ADAGP, Paris 2014