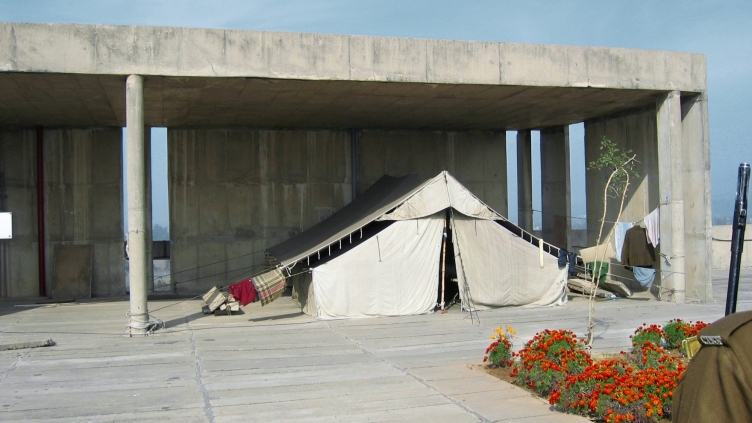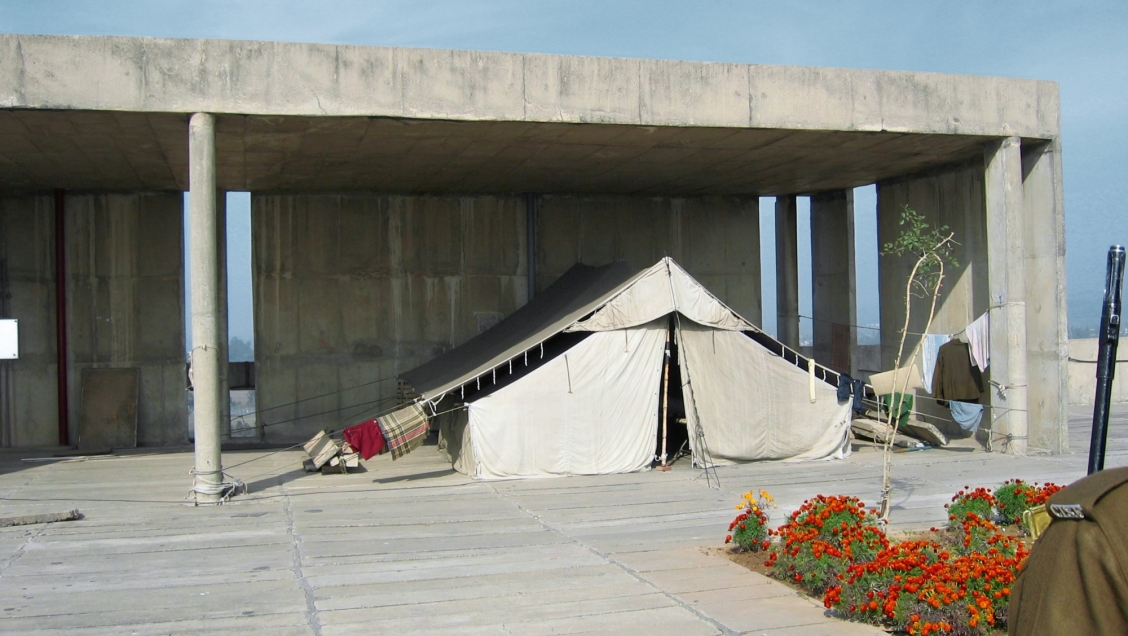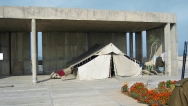 Beauty as unfinished business
Exhibition-IN
Curator
Sam Hecht
Kim Colin
Scenography
Sam Hecht
Kim Colin
Site
La Platine, agora
3 rue Javelin Pagnon
Date
From 12/03/2015
To 12/04/2015
Hours
every day
10am to 7pm
late opening every
friday until 9pm
Share
Beauty as unfinished business
Today, the standards of beauty are rapidly and constantly changing. They may temporarily fall into step with the trends of the moment, as they may also easily be excluded from them. It is difficult to make out wherein lies the beauty of an object: in the way it is made, the way it is used, its shape, its ability to evoke personal memories, its cultural dimension?
For us, beauty remains an abstract concept that does not necessarily represent an ideal or that is not connected to the search for truth or perfection, but which possesses an inalienable quality that goes beyond the mere object. Beauty is therefore, by nature, immaterial. We may detect it in a product independently of its spacetime context. It fits in perfectly with our concrete and material world, whilst still retaining a form of transcendence due to its relationship to the context. This context adds a dimension that the object in itself can never entirely contain. Everything rests on the relationship between the product and its spatial environment.
All the objects in this exhibition will be displayed in an appropriate, referenced environment that aims to enhance their beauty conceptually, going beyond their innovative or novel aspects. The visitor will not be able to see more than one object at a time (as each of them has a particular significance) and will discover the collection through a series of intense individual emotions.
THE CURATORS
Partners
Sam Hecht
(1969, UK) and
Kim Colin
(1961, US) formed London design office Industrial Facility in 2002 to 'explore the junction between industrial design and the world around us,' with a focus on applying their skills to all aspects of industry including production and distribution. They were trained in different disciplines and believe their work is richer for it: Sam from industrial design and Kim from a background in architecture. Kitchen appliances, electronics, furniture and medical devices have benefited from their ideas; the studio designs objects of varying purpose in relation to their spatial, cultural and performative landscapes, for international companies operating in international markets.
Industrial Facility develops projects for companies such as Muji, Issey Miyake and Yamaha in Japan; Mattiazzi and Oluce in Italy; LaCie and Tectona in France; Wästberg in Sweden and Herman Miller in North America. Clients value their deeper contribution to their design and business thinking and often incorporate project findings into their broader future. The office is considered as one of the most progressive and creative design offices working in industrial design. Hecht and Colin are widely known for their work as design advisors to Japanese retailer Muji and for their development of over 50 technically demanding projects for everyday use -including furniture, household items, electronics and food. Between 2008 and 2012, Hecht and Colin were Creative Advisors to US office furniture manufacturer Herman Miller. They launched Wireframe Sofa Group for the Herman Miller Collection in 2012, and won an IF Gold Award 2014 for Formwork desk accessories. Locale (2013), their first office furniture system, facilitates collaboration.
Their belief in the importance of design as a means of simplifying our lives has been well documented by press and more deeply in the books they have written about design:
Things that go unseen
(2002);
Product as landscape
(2004) and
Usefulness in Small Things
(2011). They have acquired over 40 international awards, including 5 IF Hannover Gold Awards and in 2009, Forbes magazine listed them as one of the top ten industrial designers. They were awarded 'Design of the Year' in Furniture from the Design Museum, London in 2011 for the Branca Chair (Mattiazzi). Their work is in the permanent collections of museums including MoMA, New York; Centre Pompidou, Paris; the SFMOMA, The State Museum of Applied Arts, Munich and the Chicago Art Institute. Hecht is a Royal Designer for Industry (RDI).
Hecht and Colin's careers have included contributions to higher education. Colin was an architectural design tutor at the Royal College of Art and at the Architectural Association in London. Hecht formed Platform 12 in Design Products at the Royal College of Art and was Visiting Professor at Karlsruhe University in Germany.
They have held several solo and group exhibitions, including: 'The artist and engineer', Paris (2002); the Industrial Facility retrospective 'Found/Made/Thought', at the Israel Museum (2005) and 'Industrial Facility: Some recent projects' at the Design Museum in London (2008).
WITH
Max Frommeld, Ionna Vautrin, Hella Jongerius for Danskina, Jasper Morrison for Vitra, Scholten & Baijings for Hay, Philippe Starck for Axor, Miguel Mila for Santa Cole, Matti Klenell, Van Den Weghe, Stephan Zehren / Jörg Schindelhauer, ECAL / Guillaume Markwalder & Aurélia von Allmen, Ronan & Erwan Bouroullec for Kvadrat, Konstantin Grcic for Emeco, Gianfranco Frattini for Tacchini, Keita Suzuki for Sugahara Glassworks, Malle w.Trousseau, Seriesnemo, Mario Ferrarini for Antonio Lupi, , Thomas Bentzen for Muuto, Wrong for Hay, Naoto Fukasawa, for Artémide, Aalto + Aalto for Iittala, Claudia Raimondo for Alessi, Apple, Teenage Engineering, Shigeki Fujishiro
SUGGESTED READING LIST
The Architecture of Happiness
, Alain Botton
Article:
Alain de Botton on the Qualities of Beauty
http://thinking-in-practice.com/alain-de-botton-on-the-qualities-of-beauty
Usefulness in Small Things; Product as Landscape
Colin, Kim and Hecht, Sam
Poor Richard's Almanac
Franklin, Benjamin
The Invisible Dragon, 4 Essays on Beauty
Hickey, Dave
Article:
Dave Hickey by Saul Ostrow
http://bombmagazine.org/article/1845/dave-hickey
A Japanese William Morris: Soetsu Yanagi and Mingei Theory
Kickuchi, Yuko
http://www.morrissociety.org/publications/JWMS/SP97.12.2.Kikuchi.pdf
Towards a New Architecture
Le Corbusier
As Little Design As Possible
Rams, Dieter
Show complete map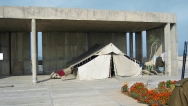 Army Tent, a photograph from The Good Life by Jasper Morrison (Lars Müller Publishers, 2014)
© Jasper Morrison Studio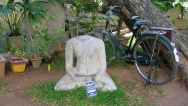 Buddha, a photograph from The Good Life by Jasper Morrison (Lars Müller Publishers, 2014)
© Jasper Morrison Studio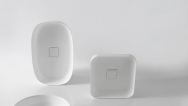 Bolo washbasin, Mario Ferrarini pour Antonio Lupi
Ceramilux®
Antonio Lupi©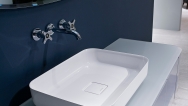 Bolo washbasin, Mario Ferrarini pour Antonio Lupi
Ceramilux®
Antonio Lupi©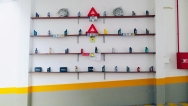 Porto Garage Display, a photograph from The Good Life by Jasper Morrison (Lars Müller Publishers, 2014)
© Jasper Morrison Studio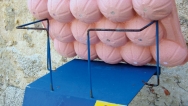 Melon Pack, a photograph from The Good Life by Jasper Morrison (Lars Müller Publishers, 2014)
© Jasper Morrison Studio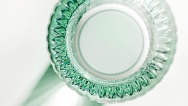 Aqua, SeriesNemo pour Aldi
Natural mineral water (detail), 2014
© Series Nemo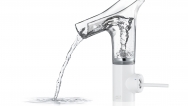 Mitigeur lavabo Axor Starck V, Philippe Starck pour Axor
chromé, bec en verre de cristal renfermant un vortex
© Hansgrohe / Axor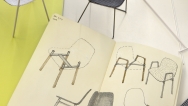 Dot Chair, Scholten & Baijings pour Hay
2013
Sketches & scale models
© Scholten & Baijings
Photo : Inga Powilleit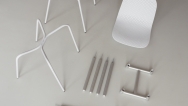 Dot Chair, Scholten & Baijings pour Hay
2013
Dot chair exploded view
© Scholten & Baijings
Photo : Inga Powilleit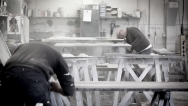 Lapris, Van Den Weghe
Photo : Thomas de Bruyne atelier VDW, 2013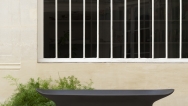 Luba, Ionna Vautrin pour Serralunga
Photo : Michel Giesbrecht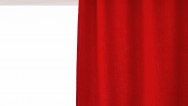 Ready made curtain
Ronan & Erwan Bouroullec pour Kvadrat
© Studio Bouroullec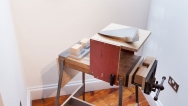 Dustpan and brush with machine that created it.
Max Frommeld
Photo : Angus Mills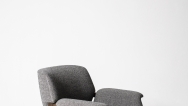 Agnese, GianfrancoFrattini pour Tacchini Italia
Photo : Andrea Ferrari