Exhibition-OFF
Site
Espace Boris Vian
3 rue Jean-Claude Tissot
Contacts
Website
Date
From 12/03/2015
To 12/04/2015
Share
Un espace pour tous
Un espace pour tous
was organised in 2013 and 2014 by the Espace Boris-Vian, in conjunction with the Cité du Design's research department. Designer Lola Diard led workshops with children, disabled people, teenagers, elderly people and staff from the socio-cultural centre on the topic of accessibility for all. After the workshops, work was carried out on the entrances and bathrooms, new signage was installed, which is more colourful, attractive, accessible and comprehensible by everyone. Further work is planned for 2015.
A 15 minute report on the entire project will be screened during the Saint-Etienne International Design Biennial 2015, accompanied by an exhibition presenting the project in the foyer.
Visits of the premises will be organised for the public so that they can discover this new way of guiding people around the interior of the building and (re-)discover other spaces that have been the subject of interventions by designers.
Show complete map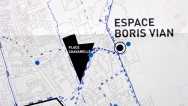 Les usages du public, comment se rendre à l'Espace Boris Vian circuits et habitudes
© Lola Diard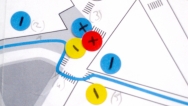 Repérage, les atouts et inconvénients d'un centre socioculturel en matière d'accessibilité.
© Lola Diard
Repérage, les atouts et inconvénients d'un centre socioculturel en matière d'accessibilité.
© Lola Diard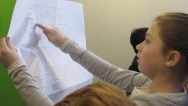 Étude des usages les enfants apprennent à se déplacer dans le centre socioculturel Espace Boris Vian.
© Lola Diard