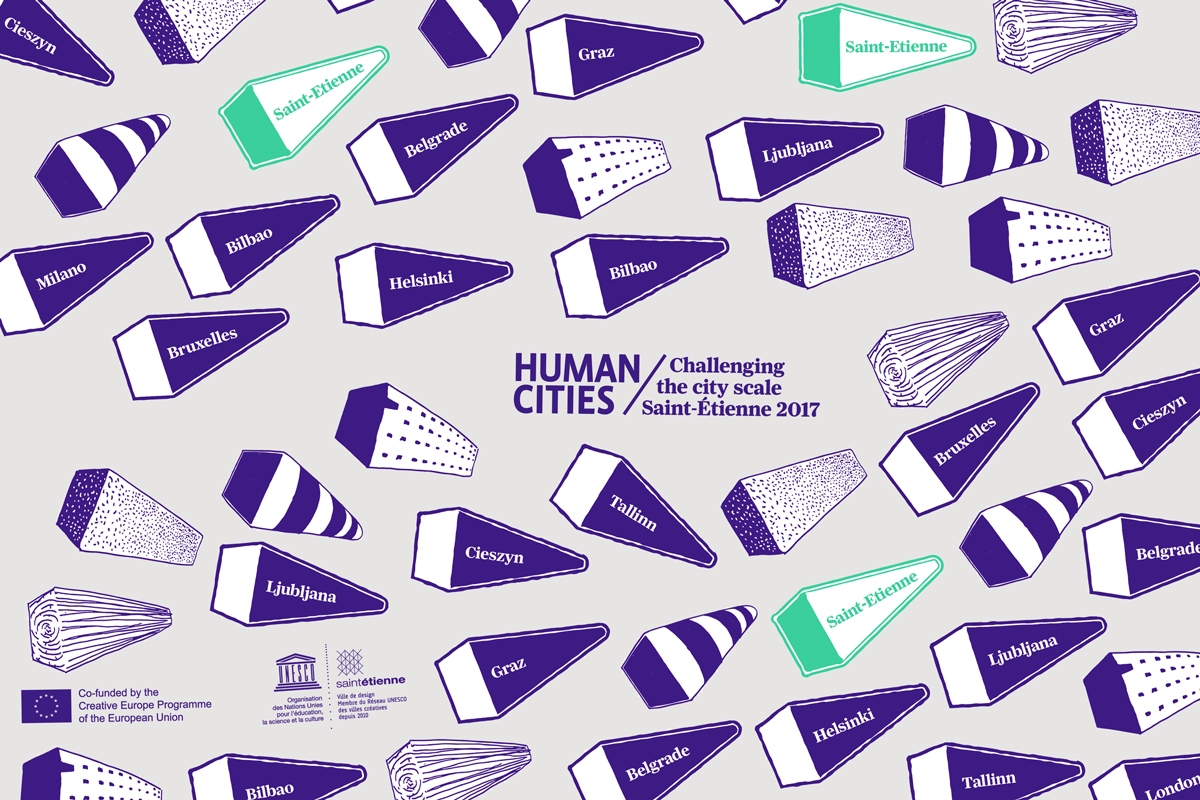 Human Cities _Challenging the City Scale / Saint-Étienne 2017 | © Cité du design
IN Exhibition
Human Cities╱
Challenging the City Scale
Occupying empty spaces to try out new working or educational methods, bringing makers together to contribute to the development of neighbourhood, activating and improving the quality of public spaces with cultural players, voluntary bodies, users and local residents, etc. A non-exhaustive list of the experiments carried out by the 12 partners
⑴
in the European Human Cities_ Challenging the City Scale project led by the Cité du design from 2014 to 2018 as part of the European Union's Creative Europe/Culture programme.
The Human Cities project challenges the "urban scale" and looks at the co-creation of the city. Saint-Etienne is distinguished by its nature as a creative laboratory, where the players working in the field develop action and methodologies with local people to transform the city. The Cité du design has created a tool for stimulating and fostering contacts between all the local sources of energy and creativity: C.H.O.S.E (Collective Human Citizens Office of Saint-Etienne Experimentations), with the support of Ville de Saint-Etienne, Saint-Etienne Métropole and the EPASE
Within this framework, an urban trail links these sites and the initiatives of the Saint-Etienne collectives in the Crêt de Roch and Beaubrun neighbourhoods:
Ici bientôt
Hypermatière
The experiments conducted by international and local partners are presented in the Human Cities exhibition-lab on the Cité du design site and in a dedicated space in Rue de la République : Human Citizens office.
Human Citizens office

(1) Partenaires européens : Cité du design Saint-Étienne [FR] ; Politecnico di Milano, Milan [IT] ; Urban Planning Institute of the Republic of Slovenia, Ljubljana [SI] ; Clear Village, London[UK] ; Zamek Cieszyn [PL] ; Design Week Belgrade [RS] ; Pro Materia, Bruxelles [BE] ; Aalto University, Helsinki [FI] ; FH Joanneum, Graz [AT] ; Association of Estonian Designers, Tallinn [EST] ; BEAZ/Bilbao-Bizkaia Design&Creativity Council, Bilbao [ES] ; CultureLab, Bruxelles [BE].
Venues:
Cité du design - arches of the clock building
Human Cities office - 8 rue de la République
Ici bientôt - 40 rue de la Résistance
Hypermatière - 47 rue Neyron
See also

Rue de la République du design
Human Citizens office
Cité du design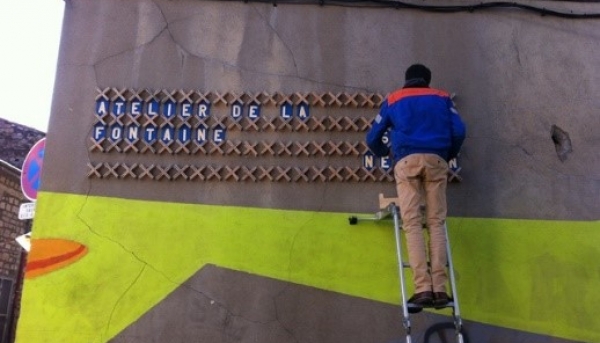 Experience
Hypermatière
Human Cities╱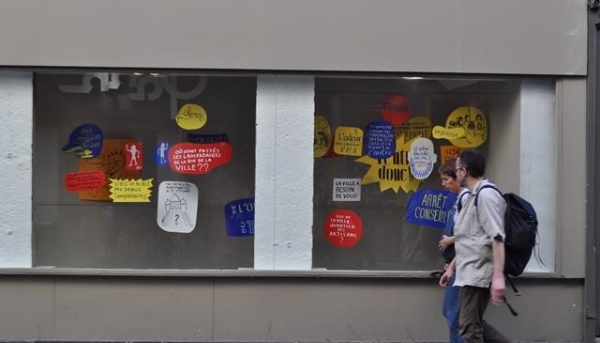 Experience
Ici-Bientôt
Human Cities╱
Conférence
MON 13 MAR / 17.00 - 20.00

Human Cities╱ L'échelle urbaine en question
Maurizio Carta, Anya Sirota, les partenaires européens et locaux
Presentation of international, European and local experiments carried out by collectives of creative citizens to contribute to the development of a neighbourhood, improve the quality of public spaces and re-invent the city.
17.00 : Welcome addresses
Josyane Franc & Camille Vilain
17.10 : Introduction
Gaël Perdriau
, Mayor of Saint-Etienne, President of Saint-Etienne Metropolis and Cité du design- ESADSE
17.25 : The Paradigm of Augmented City
Maurizio Carta
, Urban planner and architect, President of the Polytechnic School of the University of Palermo, Italy
17.45 : Fancy That
Anya Sirota
, Designer, co-founder of Akoaki design studio, Detroit, Assistant Professor at University of Michigan
18.05 - 18.30 : Human Cities experiment labs developed in Saint-Etienne
Ici-bientôt / Hypermatière / Échelles de regards urbains
18.30 - 19.00 : Human Cities experiment labs developed in Europe
Maker Mile - Clear Village, London / La Piana - Politecnico di Milano / Kragujevac Creative Grand Park - Belgrade Design Week/ Bratovševa ploščad - Urban Institute of Republic of Slovenia, Ljubljana
19.00 :
Conclusion by Josyane Franc
Inscriptions en ligne
Auditorium - Cité du design
3 rue Javelin Pagnon - Saint-Étienne