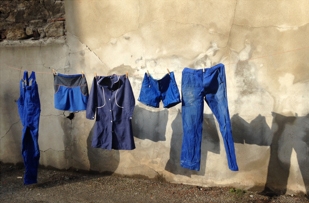 Working Blues
Biennale OFF
Working blues
The blue overall, a strong symbol of the image of the working man. In the 19th century, at the workers' request, the ruling classes began to supply them with work clothes dyed with "Prussian blue, a colour that was cheap and already used for sailors, military and postmen's uniforms.
This dark colour had the advantage of not showing the dirt, making blue overalls perfect for miners and factory workers, and they rapidly established themselves as the work clothes par excellence.
As part of the Biennale, we are proposing a multi-disciplinary installation, reflecting our interpretation of blue overalls.
Site : La femme à barbe

22 rue Paul Bert – Saint-Étienne
Contacts
http://www.lafemmeabarbe.wordpress.com
Related events
Opening
FRI 17 MAR / 18.00

Working blues
La femme à barbe
22 rue Paul Bert - Saint-Étienne