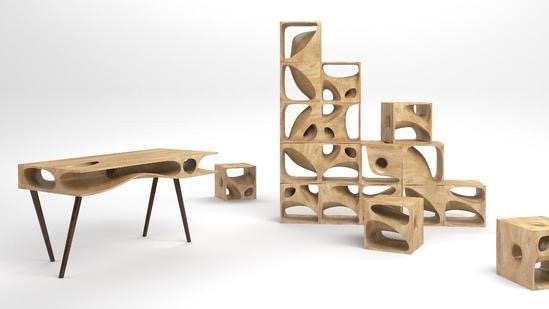 table, tabouret et étagères © Shi Dayu
Biennale OFF
Bois +
"Bois+" gives an overview of Chinese creation inspired by wood. A hundred or so products, unique or made in small series, are on show, all made by hand from different species of wood. Everyday objects, tableware, light fittings, furniture, decorative items. The objects are on show in the gymnasium in the Parc Cévenol.
Exhibition design by artiste Fan Zhe: "In China, like in France, we like wood...".
Wood was also an obvious choice for the Parc Cévenol where the forest is omnipresent. Today, working with wood brings us together, east with west, tradition with modernity.
Related events
Opening
SAT 11 MAR / 10.00

Bois +
Découverte et dégustation de thés de Chine
Bâtiment Batisco - Parc International Cévenol
Chemin de Luquet - Le Chambon-sur-Lignon